 If you're anything like me, you'll full of excuses for why you can't do something but then come down with a bad case of FOMO.
'I'm broke' turns into 'Damn I'm upset I didn't check out that new restaurant.'
'I'm tired' turns into 'No way, Becky did what?! I can't believe I missed that!'
'I'm too busy' turns into 'Yeah my weekend was fine, just watched reruns of 2 Broke Girls.'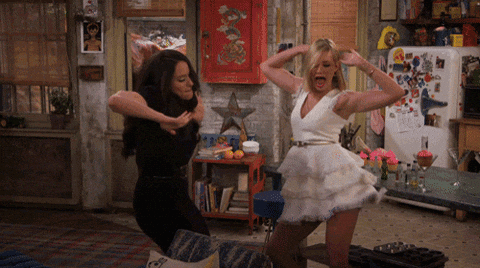 Blah, blah, blah, BLAH!
It's all CRAP. These days I'm starting to call out my BS because of one simple truth of life: You make time for what you want. Plain and simple. One common side effect of turning down perfectly good plans is that you get a mean case of FOMO (Fear Of Missing Out). You drown in regrets once your chance has come and gone. Welp, fear no more my friends. I have finally found the cure to our FOMO.
1. DON'T THINK ABOUT IT, BE ABOUT IT! JUST DO IT!
You know those nights when you're home alone and binging on Netflix, and your girlfriends text you to grab some food at this fab, new eclectic restaurant? You want to go, but ugh… that means you have to get up, shower, get pretty, and drive more than 20 minutes to get there.
It is so easy to say, "Nope, sorry. In bed." But as soon as they post a pic of the delicious food and drinks they had without you, that FOMO will set in, and you'll wish you had gone.
Of course, we all have our legitimate reasons for skipping on nights out. Saving money is a top priority (Get it!), you truly are exhausted and know your body will hate you if you choose fun over rest, or you're just in one of those "I need to be by myself" moods, those reasons are justified.  Just make sure you don't find yourself bailing more than you say yes. Look at it as a cost-benefit analysis.
Scenario A: The cost isn't worth the benefit
Putting yourself in debt for girl's night? Easy – then opt out!
Scenario B: The benefit outweighs the cost
Quality bonding time with the girls in favor of getting your butt off the couch. No brainer, JUST DO IT!
2. MAKE PLANS WITH AN OLD FRIEND.
We all have friendships that have come to a screeching halt solely because life got in the way. Let's be real; we've all had those friendships that were so strong when we were younger. The good ole' middle school/high school days, hell, even those college days – holy shit I'm getting old *wipes sweat*…
I refuse to accept this as a fact of life, at least with those friends that formerly held a special place in our lives and hearts.
I can almost guarantee that if you're reminiscing about an old friend, they may be thinking of how much they miss you too. Stop your FOMO over the good ole' days and take some action. Text them, call them, Facebook poke them! I don't care! Reach out! You will be surprised and happy to find that they're willing to meet you and reconnect. Rekindling friendships that have drifted due to the pressures of LIFE truly is a wonderful thing.
3. GO ON DOUBLE DATES, OFTEN!
To all my friends that are deep into a relationship like me, it's easy to fall into the comfort of spending most, if not all, of your time with your significant other. Don't get me wrong; there's nothing wrong with that. BUT, it is nice to go out in a group or a double date with your friends in relationships. Why? Because it's fun to spice up your relationship plans now and then, and it's a great way to mix and mingle with friends. It's a no-brainer if you ask me… I mean… my love + my friends = an amazing night.
Don't be selfish by planning dates with only your group of friends, but use it as an opportunity to meet more of your love's friends. I have found lifelong friends by double dating with my boyfriend's friends and girlfriends. Sometimes we're forced into FOMO because we have to choose between friends and our lovers, they both deserve our time so don't be afraid to try an all-inclusive approach!
4. SCHEDULE PLANS AHEAD OF TIME.
You know that little calendar icon on your beloved iPhone? Yes, that. It comes in handy once you put your technology skills into full gear. Are you bad at remembering plans? Are you, like me, one of those people who verbally makes plans, just to double book yourself because it completely slipped my mind – now I'm left to choose between plans or cancel them both out of guilt? As soon as I discovered that my calendar app is there to provide me with more than the date, making plans has become so easy.
Spontaneity is important, don't get me wrong. But in our crazy busy lives, sometimes the best way to curb that FOMO is to make plans that we love with the people we love – we just need to pencil it in. Who knew it could be that easy! Plus the anticipation of upcoming plans is a bonus. When I'm having a crazy week at work, I find happiness seeing the fun plans I have scheduled for the weekend.
5. PUT DOWN YOUR PHONE.
If you've followed these simple rules and made plans and stuck to it, it's important to be present. The worst kind of FOMO is when you're physically there but miss a joke or story because you were too busy checking your Facebook feed. Take advantage of true human interaction when you have it right in front of you!
If you follow these five simple rules, I promise your FOMO will be something of the past. Stop making excuses and get out there, life isn't meant to be lived on the couch so stop flaking on your friends and do something! Rekindle friendships that have ended over circumstance and stop thinking about the good ole' days and start living your new glory days. LTRs are not an excuse to become love hermits together, schedule some double date time to break up those gushy moments. When spontaneity fails, your calendar is there to catch you when you fall so don't be afraid to schedule plans if it makes it easier to come to fruition. And last, but definitely not least, don't let technology rule your life so you can be present! Laugh if you must, but FOMO is a real thing. On a serious note, the worst FOMO of all is finding yourself in your old age with an extensive list of shoulda, coulda, wouldas and minimal memories because you chose Netflix and the 'gram over brunch and cocktails. Get out there and have some fun! Don't let your life pass you by! See ya FOMO hello social butterfly!
xoxo,
Ari