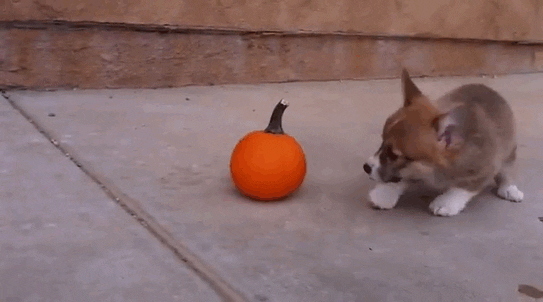 Hi babes! I can't believe it is already the end of October. Where did 2018 go?????? Anyone??? 😓
I still can't believe tax season is a whole 6 months behind me… summer is over… and the next tax season is a whole 2 months away. At least fall is my favorite season EVER and I have discovered some of my new favorite products EVER in the last couple of months. Are you ready for it????
Here we goooooooo.
---
1. DevaCurl Gel
If you have curly or even wavy (and frizzy) hair… you literally need to try DevaCurl products. They have changed my life. I almost wish I didn't chop all my hairs off so I could have seen the magic it could do on my longer curly hair. Oh well… it'll grow back. It is not sticky at all and once your hair dries… you just shuffle your fingers through your hair once and it looks perf. I swear. I promise. Trust me. I also love their curl cream! Check it out here!
---
2. BootyByBrabants Leggings
I know you guys knew this was coming from my recent selfies… but I shit you not… these bad boys are better than any pair of Lululemon I've owned. They are the most perfect pair of pants for a hard sweat in the gym and also super comfy so you can just lounge around in them. I was soooo skeptical of the "one size fits most" thing… but they literally conform to your bod and fit so perfectly. The "crocodile" pattern can even make them cute enough for a night out with some heels. 10/10 recommend and I already got a couple of my friends hooked on them, too. Don't be afraid of the price tag… it is well worth it. And if you just bite the bullet for the good stuff now, you don't have to waste your money trial and erroring your way through the wrong pants! You're welcome. Go here to check them out. I have only tried the croco style but I am sure I will get the others soon!
---
3. Hidrate Spark 2.0 Water Bottle
This water bottle is perfect for anyone who has trouble hitting their water intake goals each day. I will seriously forget to drink water. By the end of the day, I realize I only had one bottle and I aimed to drink at least 3 or 4. This bottle totally changed that for me. It lights up and sends you texts to remind you to drink and let you know you are behind to hit your goal. It's cute and fits in your car drink holders and they come in the prettiest colors. I must admit, I did have some issues with my bottle when I first ordered it. The beautiful matte bottle peeled instantly and looked so ugly… the sensor stick was malfunctioning and not tracking all my water intake… their customer service is 20/10. They sent me multiple replacement parts so quickly and without even questioning my complaints. They are quick and super friendly and now I have a perfect, peel-free bottle that I use every single day. 10/10 recommend. V sleek. Check them out here… this is the color I bought but they have more so look around on the website! A tip — buy one from Bed Bath & Beyond so you can use a 20% off coupon 🙂
---
4. Hempz Triple Moisture Chapstick
Chapstick will be the bane of my existence. I have become so addicted that I start to have actual withdrawal symptoms if I don't reapply every 20 minutes. I have gone as far as buying a new stick because I was closer to a CVS than I was to my house and I needed it now. I have finally found the most amazing chapstick and I bought 3 at once because I did not want to ever fear running low. I am, in fact, running low and I am v nervous. I need to get more stat. It is so smoothe on your lips that it feels like a non-sticky gloss. It smells amazing and it really keeps my lips moisturized for a long time. Check it out here.
---
5. Tula Skincare
It might be too soon to truly rave about these products… but I ordered Tula's Skin Essentials trial skincare kit to see what all the hype was about. If you have any hopes at all that you will receive any product larger than your pinky finger in these trial kits, you need to kill those hopes now. Immediately. They are TINY and you will probably use them up within a couple weeks… but to be fair, I think I read somewhere that this is the purpose and then you will be HOOKED AF and go back and order their full size products. It's only been a few days but I can already say I love this stuff. Your skin feels sooooo soft and clean with your first use. I noticed my skin tone is so much more balanced and even. I also ordered a full size acne clearing & tone correcting gel for good measure and I can swear I am seeing improvements on my chin (where I never thought I would see progress because they are just tiny clogged pores that no one else can see but they drive me NUTS.) I will write an updated review once my "two weeks" are up and let you guys know if I decide to invest in their full size products! Check them out here and make sure you try to find a promo code on Instagram to save some monies!
---
6. BareMinerals BarePro Performance Liquid Foundation
Wow. This stuff is gold. I was using IT Cosmetics CC cream for a while but I started noticing that it looked super cakey/clumpy, made my face so oily and shiny by mid-day and it would wipe right off and transfer so easily. My friend Alexandra of The Balanced Donut recommended this foundation to me and I will never use anything else. It blends beautifully, does not smudge or transfer once it is on (EVEN WHEN YOU BLOW YOUR NOSE, OK???) and it stays pretty matte throughout the day. I am obsessed. Since we are besties we both matched with the color Silk… but go check out their shades here!
---
7. Primal Kitchen Chocolate Coconut Collagen Protein
When the weather starts to get chilly (okay, or freezing… like wtf… Merry Christmas????), I love to make healthy hot cocoa and snuggle on the world's comfiest couch (mine) after work. I found this product a year or two ago and it is amazing. It will help with hair, skin and nails… aid as a protein supplement… and when mixed in warm almond milk, tastes just like a yummy coconut-y hot cocoa! I have to restock on it myself and you can find it for a great price here! Check their natural and v paleo ingredients!
---
8. Sincere Sally Boutique
I found the cutest Australian boutique that carries adorable sweaters, workout clothes, dresses and accessories. I loved the clothes so much that they gave me a coupon code to share with you all! This teddy bear jacket is life and I just ordered one for myself. Check it out here and browse their other adorable items (ahem… their bodysuits are life). Don't forget to use the promo code OREOS25 to save 25% off your order!
---
So there you have it. My fav fall products. It goes without saying that pumpkin spice is also my fall fav (including but not limited to: lattes, coffees, Oreos, Pumpkin Joe-Joes, muffins, pancakes, cookies, donuts….) so I didn't even feel the need to list this as it's own bullet point 🙂 If you need recommendations on where to get the GREATEST pumpkin treats, send me a message and I will guide you.
If you try or have tried any of my fav falls, I would love to know what you think! Leave a comment!
xoxo,
Ari