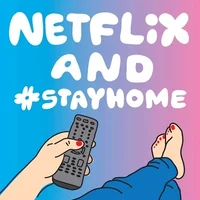 So, we're in the midst of a pandemic.
WHAT
THE
FUCK?
Honestly, times are fucking weird. Lots of people are working from home, lots more have lost their jobs completely and for some, nothing much has really changed. All of our routines have been flipped on their heads.
Gone are the days of hitting the gym before or after work. No more Target and TJ Maxx runs "just because". Date nights out at your fav restaurant? Forget about it. Walking your favorite trail when the sun is out? Better wear your mask and pray they didn't tape off the parking areas. Late night trips to Trader Joe's to see what catches your eye? Yeah, right. Get in line, sis. Wanna stop by your parents house to hang out and say hi? Think again. Coffee dates with your bffs? Rain check. (Or you can do it from the car?)
You get it. Shit is getting real. Well, it's been real… but I guess the more days that go by of me barely leaving the house or seeing anybody besides my fiancé just make it feel more real.
Overall, I've been fine. Weird, right? I have had some moments of complete despair, getting in my own head about things that make me sad… like losing my fur baby, Bella, a couple months ago. There's just more time to feel all the feels… and while it can be a good thing, it could also be a complete fucking disaster. I don't want to mope around and be blah. I don't want to feel sad or discouraged or hopeless. I want to feel optimistic, full of life and excited to be here. For the most part, I am. I have developed some "Pandemic Routines" if you will. And I think they're quite helpful during these uncertain and sketchy times. For that reason, I thought I could share some of them with you all! WOOOOOOOO! Get excited!!!! Just kidding. It's hardly riveting stuff… but better than nothin' yanno?
1. Wake up at a set time every morning
I mean, the weekends don't count, okay? They probably should so don't listen to me. I'm famous for sleeping in until at least 9:45AM on the weekends because like what else is there to do? Except now that I reflect on this, that's got to change, too.
Set your alarm so that you have some time to wake up, wash your face, drink some ginger lemon water or a nice cup of tea… set up your work desk and log on to your computer. Waking up and rolling out of a bed with 3 minutes to spare just ain't it. And just think about how much harder it will be to get back into your REAL work routine if you get too comfortable snoozing until the last sec. No bueno.
2. Keep a workout routine
So, we don't have the gym anymore. Some of you may not even have any equipment (i.e. dumbbells, bands, kettlebells, etc.) but don't fret! If you have a body, you have plenty of equipment! Yeah, your workouts won't be the same, but they can be just as effective if not more so! I have been sticking to a workout routine of at least 4-5 workouts per week from my apartment. I am doing my friend Stacie's Slim in 6 which has been amazing for keeping me on track and helping me stay accountable. Her next one starts the week of May 11th I believe. If you want to check that out, I highly recommend it! You can find her on Instagram at StaceJaym and you can also check out her website here.
She offers tonsssss of free workouts that you can do with or without equipment right on her Instagram page and she is the QUEEN OF HIIT. You WILL be sweating more than normal and you will love it. If you want a live virtual class with her, she offers them through the MindBody app and you can find more information on her stories every day about class times, etc.
Go for walks or jogs around your neighborhood! Even a quick little mile. Just try to move your body because a body at rest stays at rest.
I've been sticking to her HIIT workouts and tracking macros (loosely, I would say) for the last 10/11 weeks and I am consistently down about 7 pounds! For me, right now, slow and steady wins the race. I am proud and I feel amazing.
3. Don't forget about nutrition
I know getting to the grocery store absolutely sucks right now and I know some people may not even be able to get there or get access to fresh produce and healthy protein choices. Do the absolute best you can. We are all struggling and we are all trying to adjust to this new way of life. I recommend buying nutritious foods whenever you can and freeze things so they don't go bad. Frozen veggies and fruits are amazing to have on hand. Freezing poultry and beef and fish or buying them frozen is also another great hack to keep yourself stocked with nutritious foods. Don't be an absolute idiot and skip out on the fun stuff. Just because we are focusing on our health does not mean we won't have major cravings. You want to be able to treat yourself, too!
I stocked up on SmartSweets candy and Stack'd Pancakes. I have been loving Trader Joe's Coconut Cashews! Fruit like sumo oranges or stawberries whenever I have a chance to get some and even making protein shakes/smoothies with my frozen fruit. I also love chips… so I keep Cape Cod chips and Stacy's pita chips in stock at all times… with a dip like hummus or french onion dip.
I make wholesome meals that I genuinely enjoy and look forward to: over easy eggs with Trader Joe's shredded hash browns and fruit, scrambled eggs with veg and toast with butter and jelly, fun and colorful salads, taco bowls, salmon with veg and sweet potatoes with ketchup… the options are endless. I feel like we all struggle with balance and it is certainly something we can work on with all of this down time!
4. Drink your water
Don't forget about your water intake. I noticed it's been so much harder for me to drink my water while being at home. Normally, I am at work and can go to the filtered water machine and fill up my 40z tumbler and get to sippin'. Now I have to fill my Brita which is a project itself… and its just not as easy to remember to drink for some reason! I love adding True Lemon to my water and that really helps me drink it fast because it's delicious! My favorite flavors are Watermelon Limeade, Strawberry Lemonade and Raspberry Lemonade.
5. Do something every day that calms you
For me, that is usually reading a book, making a cup of tea, watching one of my shows or just sitting in silence, honestly. Like I said, having so much free time and being alone gives us many opportunities to stir in our own feelings and when I catch myself feeling a little anxious or sad, I try to bring it back to the present moment. Feelings of sadness usually mean you are focusing on the past and feelings of anxiety usually mean you are focusing on the future. Trying to snap back to reality and focus on the present moment tends to help me. I also love to drink Natural Vitality Calm, which is a magnesium supplement. I take it for other health reasons as well, so of course it is best to to discuss taking new supplements with your doctor before taking if you are not sure.
6. Work on your skincare game
This is one of my favorites right now. Being make-up free almost 7 days a week really has it's perks, man! My skin is glowing way more than usual. I have purchased a few new skincare goodies and am using them religiously (per their instructions). I must say, I am loving them. Right now my skincare routine usually consists of:
Before you guys come for me… I know there is no sunscreen listed here… I am working on getting some. I have a Cetaphil AM face moisturizer that has 15SPF and I wear it sometimes but not always. When I go out, I usually try to throw on a light layer of my tinted moisturizer which has SPF in it. 🙂
7. Go to bed at a normal time
I know it is so so tempting to just stay up late and in turn snooze your alarm until the last possible second since most of us are no longer commuting to work. I strongly advise against doing this, though. Save your rebelling for the weekends, okay? I still try to be in bed no later than 10… 10:30pm if I am pushing it. My normal routine pre-pandemic had me in bed by 9pm and 9:30pm if I was pushing it LOL.
Keeping a good sleep schedule and incorporating the other healthful habits I provided into your pandemic routine will really help us flourish during these unprecedented times. You can either come out of this thing a better version of yourself or a lazier version of yourself… the choice is always yours.
Most importantly, I hope we learn to love ourselves and show grace to others because it is so important now more than ever.
Sending love to everyone!
xo
Ari